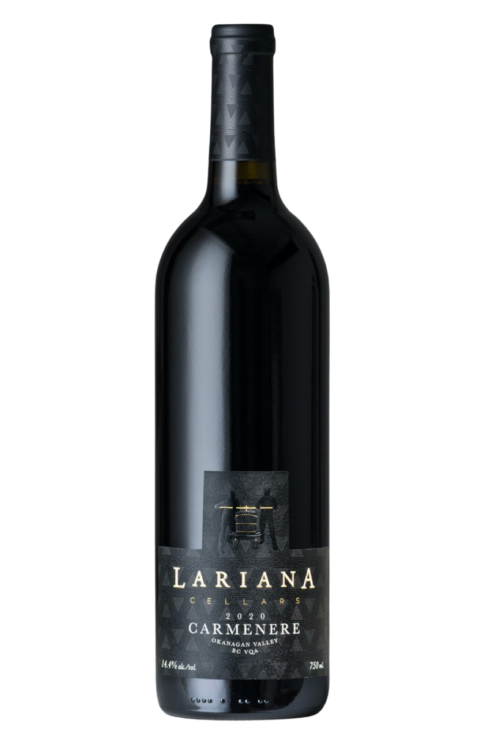 2020
Carménère
estate grown
100% Carménère
Although 2020 was a small vintage in its volume, the quality of its wine is outstanding. Spring weather was unusually cool and wet, resulting in later bud break and flowering. However, summer followed with near perfect growing conditions and continued into one of the warmest falls on record. Snow and cold came early but the grapes were already safely tucked away in the winery.
A lovely expression of Rainier cherry and red current, with inklings of cinnamon bark and peppercorns. These same flavours are further accentuated with a core of fresh acidity resting on a medium body frame. On the finish more of the savory herbs swish around well-integrated and firming tannins.
Bison polpettes (Italian meatballs drenched in Parmesan cheese) resting on a tomato savoury infused sauce and accompanied with more of the parmesan cheese creamy polenta would be an amazing pairing, yum.
Incidentally, we are excited to share with you our latest news. This year as in 2021, we are planting additional Carmenere vines. With this 2023 planting our total Carmenere planting will be two acres. Still small in quantity but mighty in quality.
Senka Tennant ~winemaker~
*limit of 6 bottles per order

$47.74
Sold Out
Technical Details
Cases Produced: 192
Alc: 14.4%
pH: 3.92
TA: 6.5
Harvest Date: October 17th , 2020
Bottling Date: June 27th, 2022
Maturation:
18 months 70% French Oak, 25% new. Unfined, unfiltered.
←

Back to Our Wine